There are usually 2 reasons why NXPowerLite's Outlook add-in stops working:
The add-in has been removed from your system
The add-in has been disabled or unloaded
In both cases you may not have been aware of this happening but please follow these steps to troubleshoot and get back up and running:
1. Check that NXPowerLite is installed
Open 'Control panel' option from the Windows start menu
Type 'Program' (without the quotes) into the search box in the top right-hand corner.
Select 'Programs and Features' option from the search results
Select NXPowerLite Desktop X in the list displayed (where X is your version of NXPowerLite
Select the 'Change' option from the menu bar - the installer should appear.
Click next and then 'Modify'
Please ensure that Outlook integration is selected for installation in the installation list. The screenshot below shows a typical installation for systems with Microsoft Office installed.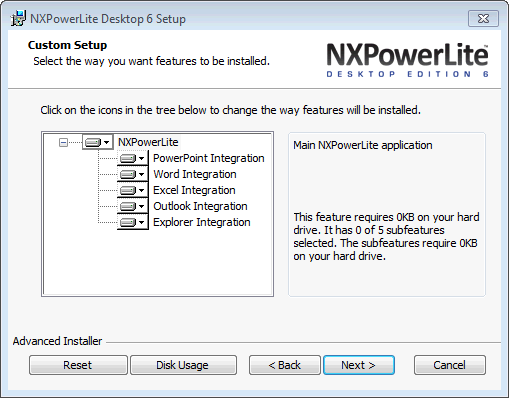 Follow the installation until it completes.
A restart of your machine may be required.
2. Re-install NXPowerLite
If the above two steps have not worked then try uninstalling and installing NXPowerLite. Download links for the software are listed in this support article.
If the above steps did not resolve your problem then it is likely that NXPowerLite's add-in is now disabled or unloaded. Please follow the support article How to re-enable disabled NXPowerLite Add in within Outlook for resolving this issue.
--------------------------------------------------------------------------------------------------------------------------------
Occasionally the registry entries for NXPowerLite need be removed please see this article Remove Desktop registry entries