Here's some things to try if you find that the NXPowerLite Windows Explorer options don't work or stop working:
1. Is it a problem with anti-virus?
Some anti-virus solutions incorrectly categorise as containing a virus some files that NXPowerLite needs to run. These files will then be typically quarantined and move to a secure folder on your computer. When NXPowerLite installs or tries to run, these files will be missing resulting in the Windows Explorer integration either not installing or silently failing.
In order to be sure this isn't occurring it is necessary to add NXPowerLite's installation folder to the list of folders that your Anti-Virus does not actively scan. As an example, please see the Avast anti-virus image below. There is an 'Exclusions' option in their 'General' settings which allows you to nominate files and folders to be excluded from scanning.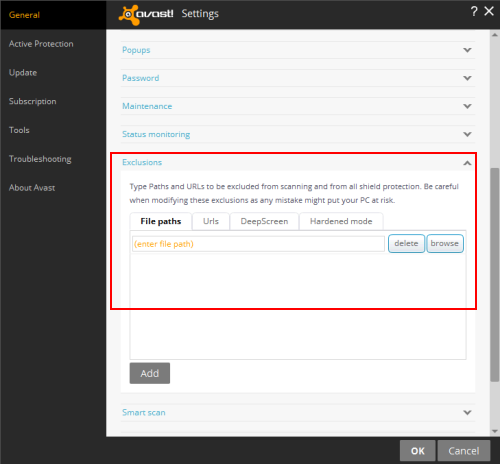 Please add one of the following folders to the exclusion list:
[64-bit Windows]
C:\Program Files (x86)\NXPowerLite
[32-bit Windows]
C:\Program Files\NXPowerLite
2. Ensure NXPowerLite's Explorer integration is installed
To do this:
Open 'Control panel' option from the Windows start menu
Type 'Program' (without the quotes) into the search box in the top right hand corner.
Select 'Programs and Features' option from the search results
Select NXPowerLite Desktop X in the list displayed (where X is your version of NXPowerLite
Select the 'Change' option from the menu bar - the installer should appear.
Click next and then 'Modify'
Please ensure that Explorer integration is selected for installation in the installation list. The screenshot below shows a typical installation for systems with Microsoft Office installed.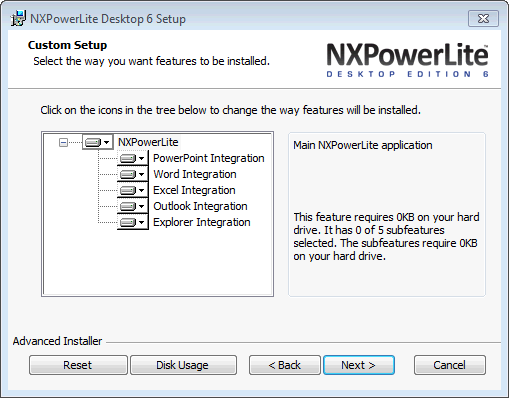 Follow the installation until it completes.
A restart of your machine may be required.
3. Re-install NXPowerLite
If the above two steps have not worked then try uninstalling and installing NXPowerLite. Download links for the software are listed in this support article.