Managing slide masters and layouts can be daunting. The PowerPoint User Interface makes it very hard to see which slides are using which layouts and so trying to consolidate can take a lot of time and patience.
Slidewise revolutionises this task by bringing slide masters, layouts and slides into a single view to enable you to consolidate with speed and confidence.
The Slide Masters Tab
This tab groups the Active slide masters and Unused slide masters together. For a master to appear in the Unused slide masters group, none of its layouts can be in use by any slides in the presentation. Normally PowerPoint would delete these automatically, but in many cases they may have been set to Preserved, which prevents them from being deleted even if they aren't in use.
Slidewise shows two numbers alongside each slide master, indicating [No. layouts in use]/[total No. layouts]. For example in the picture below, the 2_Office Theme master has 1 layout in use - Title and Content - of a total 44 layouts available, which Slidewise groups into an Unused layouts collection.
When you expand any layout you will see which slides are using that layout.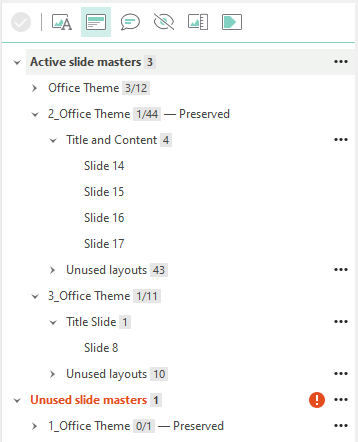 Consolidate Slide Masters
This little feature will save you hours when you need to rationalize the number of slide masters in the presentation. You can activate it from the ellipsis menu beside the Active slide masters node.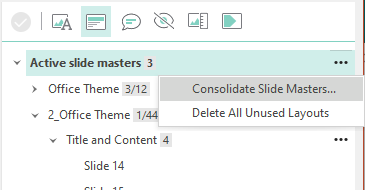 It allows you to choose the slide master you wish to keep and then the slide master(s) that you want to combine into your chosen master.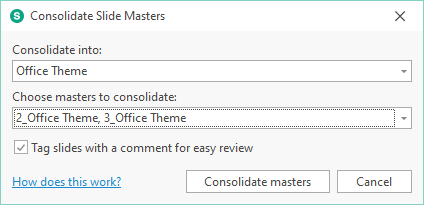 You can also optionally tag slides that use layouts that have been consolidated by Slidewise to make it easy to review them for issues afterwards.
Once you hit consolidate masters, Slidewise will combine any layouts that match. Slidewise will alert you if there are custom layouts that don't match so you can investigate. Any slide masters containing only unused layouts will be deleted unless they are preserved, in which case you can use the Delete unused masters feature on the Inactive Slide Masters node.
Check out this video to see how quick and easy it is to consolidate multiple slide masters to just one.
Delete All Unused Layouts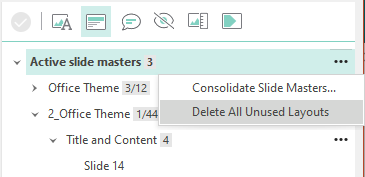 This is another massive timesaver if you have a lot of unused layouts in your slide master(s). Just a one-click button to remove all the layouts that have not been used.
Re-assign slide layouts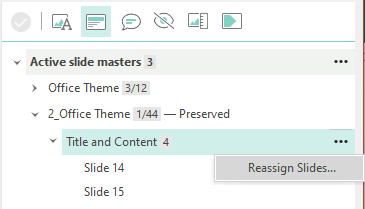 If you want more fine-grained control over which layouts you want to use for each slide, then you can use the Reassign slides feature. It makes it easy to select one or more layouts and change them to use another slide layout either one that exists in your current slide master or even one from another slide master.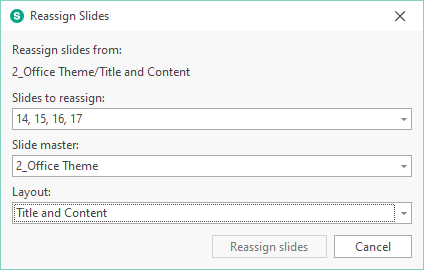 In the following video, you'll see how to re-assign slide layouts and Slidewise making it clear to the user that a slide master contains only unused slides. Plus, you can see how to easily delete an unused slide master - even if it is preserved.
Check it out at www.neuxpower.com/slidewise.
Please do take some time to give us your comments, we'd love to hear from you with any feedback.