It is possible to embed a variety of objects (such as PDF files, Excel charts or worksheets, or PowerPoint presentations) into a PowerPoint file. Also, when copying and pasting into PowerPoint from certain applications the content will be pasted as an embedded object, with an accompanying picture representation.
You can see this clearly in the Slidewise Inspector window- see below: the embedded object (oleObject1.bin) is shown first at 3.7mb and then the picture representation (image5.png) at just 212 KB. So you can see how much space you could save by removing the object if it isn't needed.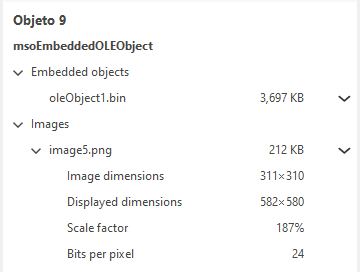 How to replace an embedded object with a picture
To reduce file size, or if you need to delete hidden data, you can change embedded objects to pictures by following this simple procedure:
Click to select the object and press Ctrl+C.
Right-click on the slide and select paste as picture (highlighted below)

Select the original embedded object and press Delete.