The Image Audit in Slidewise will sometimes report that images are increasing the file size of your presentation. There are two main reasons for this:
Scaled down significantly - this indicates images with large dimensions that are being scaled down for display in PowerPoint.
Poorly compressed - this indicates that for the dimensions of the image, the file size is unusually high, which suggests it may be possible to reduce it without changing the dimensions.
Fixing these issues should reduce the file size of your presentation.
Images that are being scaled down too much will usually need to be resized to smaller dimensions, whereas those that are poorly compressed may need to be converted to a different format, or resaved with stronger compression.
Automated solutions
There are a few ways to tackle either of the above - the first is if you like your solutions fully automated. Our PPT Compressor NXPowerLite, will take your whole presentation and go through resizing and compressing all of the images automatically in seconds.
Alternatively you can use built-in compress pictures feature in PowerPoint to compress individual images or all images in the presentation.
Edit images manually
If you'd prefer to edit your images manually, here's some guidance on what you may need to do to ensure your images are optimal.
Scaled down significantly
For these images you can use the Inspector in Slidewise to indicate how much smaller your image would ideally be. If you select Show in PowerPoint, Slidewise will jump to the image and show you more details about it in the Inspector window at the bottom of the pane.
You can see in this example the Image dimensions and Displayed dimensions. The Scale factor indicates how much the image will being scaled down for display at 1080p. This should give you an idea of how much you can afford to reduce the image dimensions by, before it will start to show visually.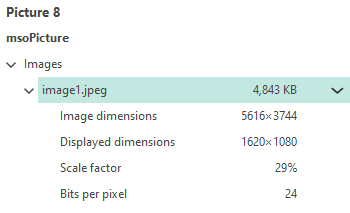 To easily edit an image, right-click on it in Slidewise and choose Export image...
Use your favourite image software to resize the image and then right-click on the image in Slidewise again and use the Replace image... feature in Slidewise to update your image to the smaller version.
Poorly compressed
JPEG
If the image is a JPEG then it's likely you just need to resave it using a lower JPEG quality setting. This will increase the compression at the loss of some quality. It's often possible to significantly reduce the size without any visually noticeable loss.
PNG
If the image is a PNG and it has flagged as Poorly compressed, this is usually because it would be a lot smaller as a JPEG file. PNGs with photographic content are often very large as the PNG format is not optimized for this type of content.
However, if it's an image with a lot of flat color, it may just be that it needs to be reduced to a lower-color image, or 8-bit PNG. Most image software will give you the option to save out this type of image, see the example here in Photoshop, labelled Smaller File (8-bit).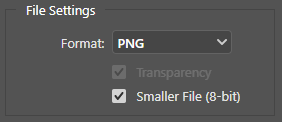 Cropped images
Images in this section have had portions of their images cropped. Deleting these cropped portions can significantly reduce the size of the image and presentation.

To delete cropped areas of pictures follow these steps:
1. Select the image in PowerPoint and open the Picture Format tab
Note: If you double-click on the image instance in Slidewise the image will be selected in PowerPoint and the Picture Format tab will open automatically.
2. Click the compress pictures option in the ribbon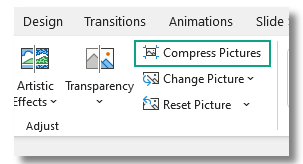 3. Check the Delete cropped areas of pictures checkbox.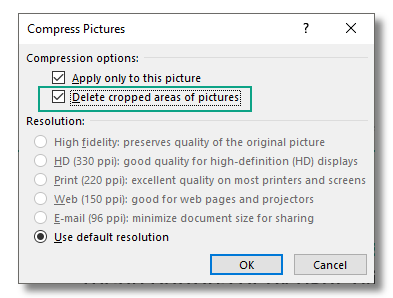 4. To remove croppings for the selected picture or pictures only and not all pictures in the file, select the Apply only to this picture check box.
5. Click OK.
Auto-generated Images
Images listed here are created automatically when certain images are added or amended. For example, if you add an SVG then PowerPoint will automatically created a PNG version of the image. Similarly for any image where you apply effects or customization within Powerpoint, a PNG image will be created.

For advice on how to reduce the size of these auto-gereated PNGs, read the section How to reduce the size of SVG/PNGs in PowerPoint on the following webpage: Why does adding SVG images to PowerPoint sometimes make the file so large?