Slidewise can only be installed on PowerPoint 2016 or later which includes Microsoft 365 (M365) subscription downloads. However, there is one scenario where Slidewise cannot be installed and the following error will be shown to M365 installations: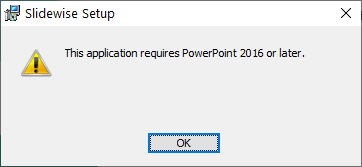 The problem is that Slidewise can only detect versions of M365 that have been delivered by their Click-to-run process. Versions of Office that have been delivered by Microsoft Store are not supported as they are now out-of-date. These versions are usually part-installed by hardware manufacturers and are only partially maintained by Microsoft.
Do I have the 'Microsoft Store' delivered version of M365?
To determine which version of M365 you have installed:
Open Powerpoint
Select Account from the left-hand menu
Review your version on the right-hand side. The delivery method is listed in brackets after the build number see below: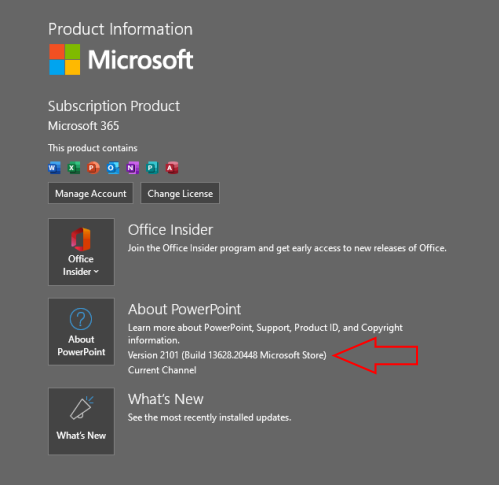 Change the Office installation delivery method to Click-to-run
In order to enable Slidewise to be installed, you need to change the installation of Office. Assuming you have an active subscription to Microsoft 365 this can be done by following these steps:
Using Windows search find and open Add or remove programs
Search the list for Office and uninstall it.
Go to www.office.com and if you're not already signed in, select Sign in.
Select Install Office from the homepage and follow the steps to install the latest version of Office.
Note: We cannot guarantee that all your custom office settings will be preserved but we have not heard of instances where these have been lost.
You should now see that your delivery method is changed to Click-to-run and you should be able to install Slidewise.