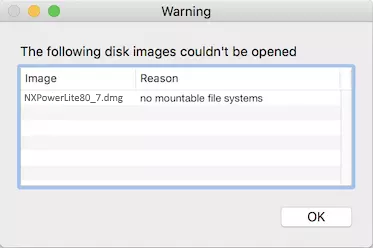 Here are the most likely explanations and resolutions for the issue:
In most cases, the downloaded dmg file is actually corrupt or had an error downloading. If possible, try downloading the dmg again, turning off any download assistant plug-ins you may have. You can also try downloading the file in a different browser.
Alternatively, try curl -O URL in Terminal to download the file. For example, to download version 8.0.7, type the following in a Terminal window to download to the current folder:

curl -O https://cdn.neuxpower.com/releases/desktop-mac/8.0.7/NXPowerLiteDesktop80_7.dmg



 The above command contains the letter O rather than the number zero.

Rename the DMG file and ensure the downloaded DMG file is stored in a local drive e.g your Desktop. These two actions can remove any permissions issues although do check security policies for the file to ensure the correct permissions.


Reboot your Mac if you haven't already tried that. Sometimes there are issues after opening too many dmg files, that is fixed with a reboot.


Try mounting the DMG on the command line in Terminal. We will at least get some sort of useful error message to go on if it still fails:

Open Terminal
Type hdiutil attach into the terminal. Don't press enter yet.
Drag the dmg file from your Finder window onto the Terminal window and let go. This will fill in the location of the dmg file into your Terminal window.
Press enter.



If all of the above fails, please contact us for an alternative link to your specific version of NXPowerLite.