Thanks for giving our Quick Scan tool a try. It will quickly build a custom report for you based on your data, clearly showing the potential for storage reclamation using NXPowerLite.
  Quick Scan is completely read only - no files will be changed by running the scan.
Step 1:  Download the Quick Scan installer
Step 2: Install and double-click the shortcut to run the software

Step 3: Ensure the user that is running the software has Read access to all the data on all of the servers/drives you wish to scan.
Step 4: Click the 'Add Folder...' option in the 'File' menu item.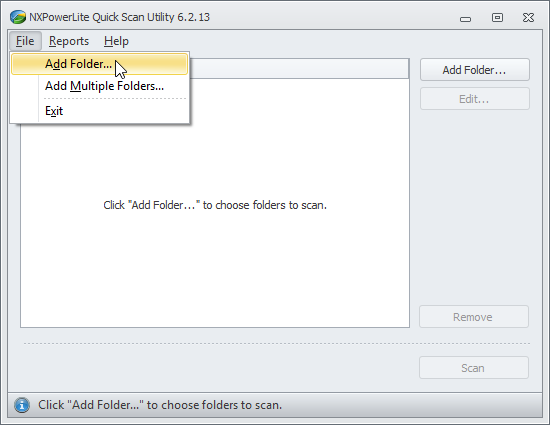 Step 5: Press the 'Scan' button and let the scan complete (approx. scan speed 2-4 TB an hour).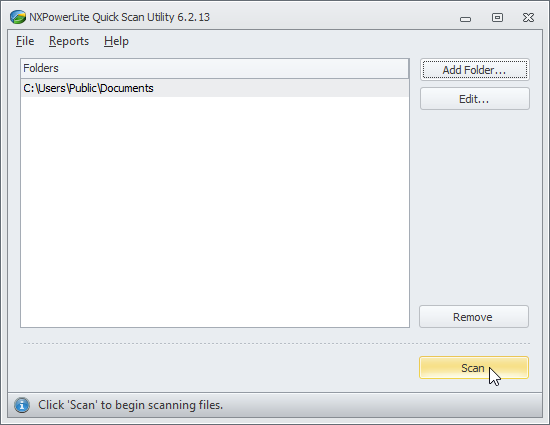 Step 6: Review the report and marvel at the results! If the scan has identified an attractive saving you can either get started with some free credit, or go ahead and buy a larger volume of credit straight away.
Try NXPowerLite with free credit
Buy credit and start reclaiming space
  The results Quick Scan shows will be affected if NXPowerLite for File Servers has already processed data in some or all configured folders. Quick Scan cannot distinguish files that have already been optimized by NXPowerLite and are unlikely to reduce further.