Most likely it will be already quite small, optimal, or it contains media that NXPowerLite cannot/didn't compress. Below we've provided instructions for helping you to find the culprit and some options for fixing it.
Is it already small?
Sizes are listed in KB in NXPowerLite, anything below 1,000 KB (1 MB) is pretty small and should be easily transferred by email. Most email caps have risen to 5 - 10 MB even in restricted scenarios, although there are still some areas where the limits are much tighter.
Optimize profile
If you are using the Balanced optimize profile, then consider trying again with Strong as there are some additional settings in there that are designed to cut even more weight from your files.
Manually reduce files
If you have an Office or PDF file, please read our file-type-specific articles that help you find and compress files with large content that NXPowerLite cannot compress.
Specific reasons files aren't reduced
There are a number of reasons why NXPowerLite may not have been able to reduce your file. If the file had not been reduced because of a specific reason, it will be indicated in the 'Results' window as shown below.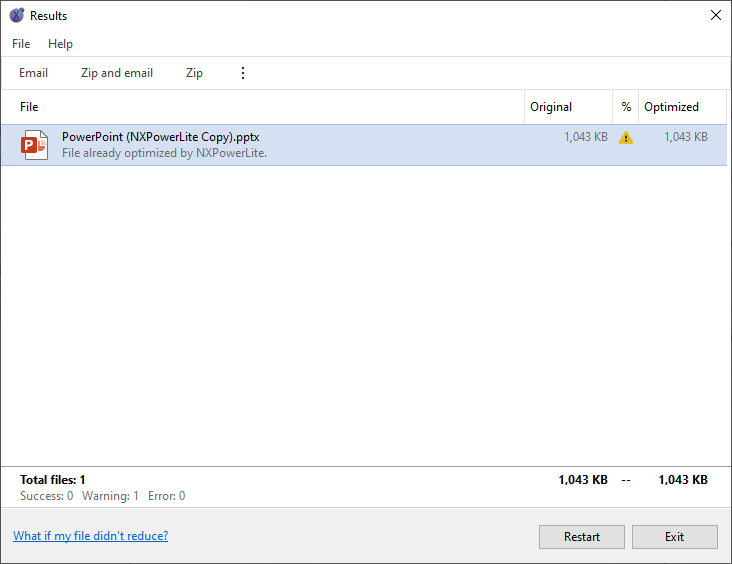 The possible reasons are detailed below:
Reason
Explanation
File not reduced

NXPowerLite could not find any content to optimize. If you have an Office or PDF file follow the links to manually reduce your file above.

If you think it should reduce please share the file with us and we will investigate.

File already optimized by NXPowerLite
NXPowerLite has already optimized this file. Reducing further could adversely affect the quality of the file. It is possible to re-optimize using more aggressive settings, for example using the 'Strong' profile.
File Type not supported (PDF portfolio)
NXPowerLite cannot yet process PDF portfolio files. Please check with us for updates on the progress of this feature.
Password-protected or encrypted file.
NXPowerLite does not process these types of files. Please remove password protection or encryption from the file before using NXPowerLite.
Digitally signed file
The file has a digital signature which NXPowerLite would render invalid and therefore cannot be processed. Remove the digital signature before processing and re-add afterwards.
Unexpected exception
Something went wrong when processing the file. See Troubleshooting Tips for further help.
Optimization cancelled
The optimization process was cancelled either before or during file processing.
File feature unsupported (resave and try again)
This applies to fast-saved documents created in an early version of Microsoft Office. Save the file in a version of Office 2003 or greater and then optimize.
File type not supported
The file has an extension that does not match the documented format of the file.

A common example of this is a .RTF file saved with .DOC file extension.

File version not supported (too new)
Files created by PDF version higher than v1.7 ext. 8 will not be processed. Please contact us to check whether an update of the software is available.
File version not supported (too old)
Files created by versions of Office 97 or PDF with versions less than v1.4 will not be processed.
Unable to create PDF file (open failed) or (save failed)
This normally indicates whether a file that has become corrupt or a problem with NXPowerLite's optimization engine. See Troubleshooting Tips
System Issues
These issues indicate that there is a problem with the operating system on which NXPowerLite is installed. Each error listed below indicates the nature of the problem. Please contact your system administrator if you are not able to resolve the issues, or alternatively contact us for help.
| Reason | Explanation |
| --- | --- |
| (access denied) | NXPowerLite is running with a user that doesn't have full access to the file. Change file permissions to allow NXPowerLite to process the file. |
| (file doesn't exist) | The path of the file has changed since the file was added to NXPowerLite (i.e. the file has been deleted, moved or renamed) |
| (folder doesn't exist) | The path of the folder has changed since the file was added to NXPowerLite (i.e. the folder has been deleted, moved or renamed) |
| (sharing violation) | Another application or system process is holding the file open so NXPowerLite cannot access it to process the file. |