NXPowerLite Desktop integrates with Microsoft Outlook (2007 - 2019) to automatically optimize email attachments as they are sent.
If you installed NXPowerLite with a 'Typical' or 'Complete' setup (or ticked the 'Outlook Integration' box during a 'Custom' setup), Microsoft Outlook integration will be initially enabled. Whenever you send an email with an attachment that NXPowerLite can optimize, it will be automatically optimized as the email is sent.
If you don't want NXPowerLite to optimize a particular email you should click the 'NXPowerLite enabled' button in the ribbon: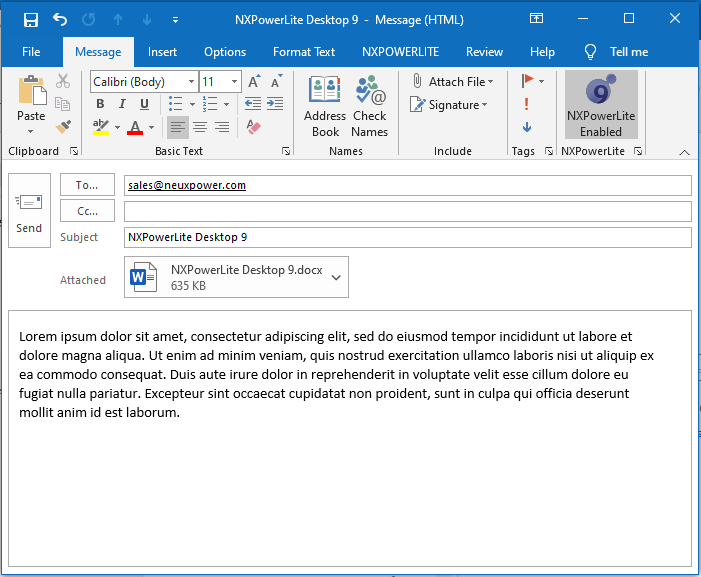 If you click this it will disable NXPowerLite for this message and any subsequent ones and change the button to 'NXPowerLite disabled'. It will stay disabled until you re-enable NXPowerLite by clicking the 'NXPowerLite disabled' button again.
Global settings
To edit the global settings such as minimum attachment size, exclusion of file types and auto-zipping you need to click on the 'NXPowerLite options' button in the main Outlook window and choose 'Settings':

In this window, it is possible to configure how NXPowerLite handles attachments - which it optimizes or not, along with rules to control automatic zipping of attachments. It is also possible to configure settings to control how light or aggressive you want the optimization of attachments to be.