Slidewise will warn you when a font is not available and has been substituted. It does this by turning the font name red and displaying a warning icon - like this example with .AppleSystemUIFont: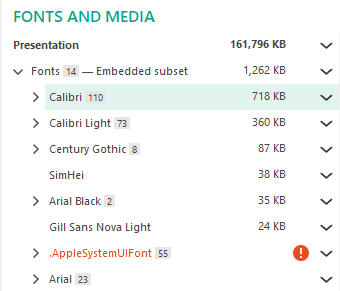 You have a few options for what you can do in this situation, depending on your needs and how the file is set up.
Leave it
If you are not reliant on the font being correct for visual layout, or the font is not widely used then you can just ignore this warning. PowerPoint shows any text using a substitute font, so you can still read and edit the file if you need to, even without the font.
PowerPoint doesn't change the specified font even when you edit text that is using a substituted font. So if you return the file to someone who does have the font it will just seemlessly start rendering with the correct font again.
Embed it
You can see if fonts are embedded in Slidewise - it will say alongside the top-level Fonts heading in the tree whether they are Not embedded, Embedded subset or Fully embedded.

If fonts are already embedded and you still see the warning then it's likely that the font cannot be embedded - possibly due to licensing restrictions.
However, if fonts are not embedded, then you can ask the original file author to embed the fonts and resend the file to you, which may fix the problem. If the font can be embedded this will ensure that the presentation appears visually as intended and so long as they have fully embedded the font, you will be able to edit the text at will.
Replace it
You can use Slidewise to replace any of the fonts in your presentation with another font of your choosing. You can replace multiple fonts at once and even replace fonts with the Theme fonts. Read our blog post for instructions on using Slidewise to replace fonts in your presentation.