The Fonts and Media tab in Slidewise is the central hub. It contains a detailed breakdown of the following:
Fonts
Images
Linked images
Embedded objects
Embedded chart data
Linked chart data
Audio
Video
Ink
3D models
External links
Internal links
Only media that is in your file will appear in the index, so not every file will show all the headings.
At the top level, you can see the total size of your presentation, and from the menu you can export a full media report, copy the file path or open the file location.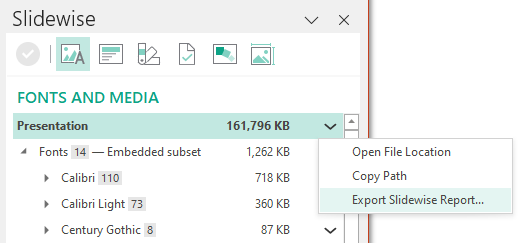 Any media in your file that is taking up space, will be listed with its file size so you can keep your file easily managed at a respectable size.
Fonts
You can see a full list of the fonts used in your file, and if you expand a font you will see all of the shapes that font appears in. Font embedding status is indicated alongside the main fonts heading - either Not embedded, Embedded subset or Fully embedded.
If a font is not available and has been substituted then you will see a warning alongside the font.

Clicking the top-level font menu you have the option to change font embedding, or replace fonts.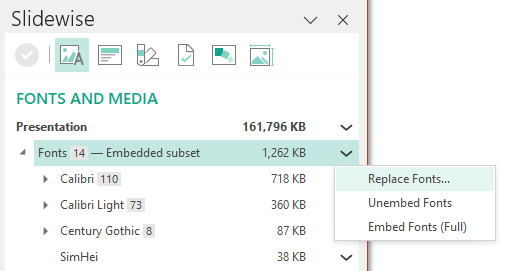 Read our blog post for more information on using Slidewise to replace fonts in your presentation or this support article for help with font embedding.
Images
Slidewise makes it super easy to find large images in PowerPoint. You can also quickly export or replace images using the menu options alongside each image, or image collection. You can also double-click, or click the Show in PowerPoint menu to jump to where an image is used in your presentation.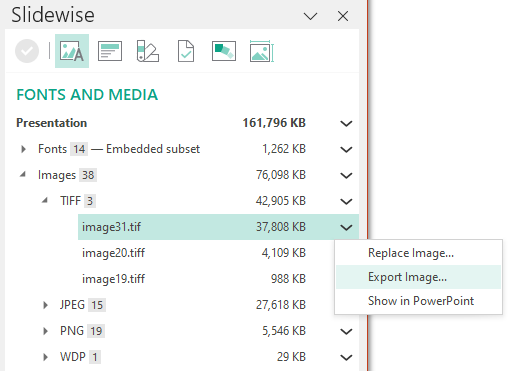 Slidewise also enables you to replace multiple image instances in one action. So if you have an image repeated through a presentation and you want to avoid having to replace each instance one by one, watch our video showing how to use the Replace image feature to do this in Slidewise.
Charts
Slidewise will also list all of your charts and makes it easy to check the Excel files that sit behind them. In many cases this will just feature the data used to make the chart, however, it's also easy to paste a chart from Excel and inadvertently include a much larger Excel file. These Excel files can contain potentially sensitive data, so Slidewise will draw your attention to this and also enables you to remove the Excel data from charts in a single action.