Here's the place where you can find out in more detail what Slidewise can do. We've split the functionality into sections which also contain links to other articles that go into more detail on each feature.
Find your way around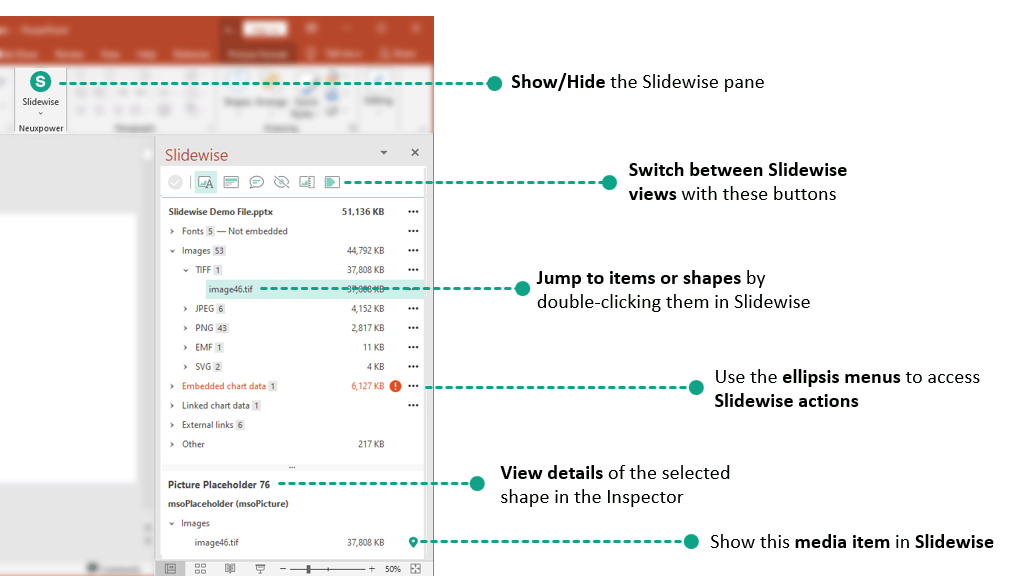 Navigate to specific content
Once started, Slidewise opens a task pane in PowerPoint with an index showing a breakdown of the content of the presentation. You can see file sizes for each content type and drill down to find individual elements. Once an element is selected you can jump to it (and select it) by double-clicking the row in the tree.
Check out how to easily Find large images in PowerPoint.
Views for different content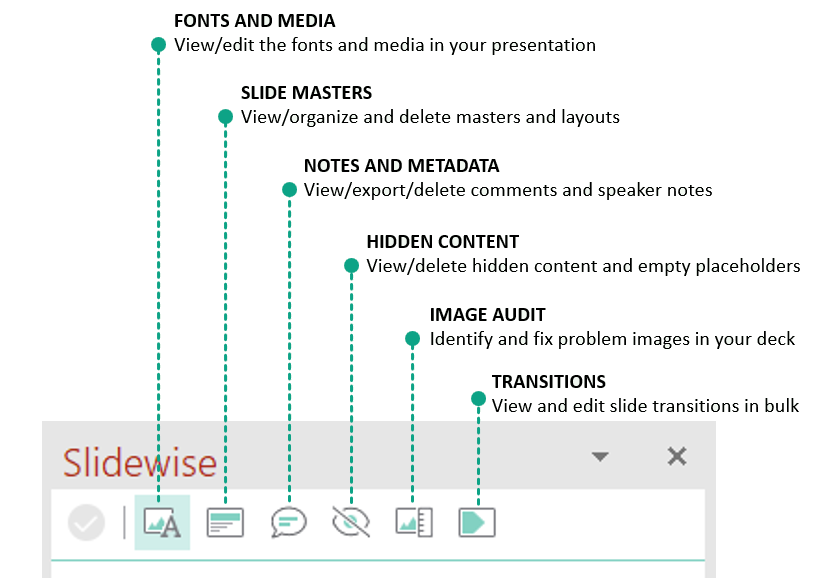 Using the buttons at the top, you can switch between 5 views all aimed at different content types and actions. Most other views have similar indexes so that you can drill down to find out more information.
Action Buttons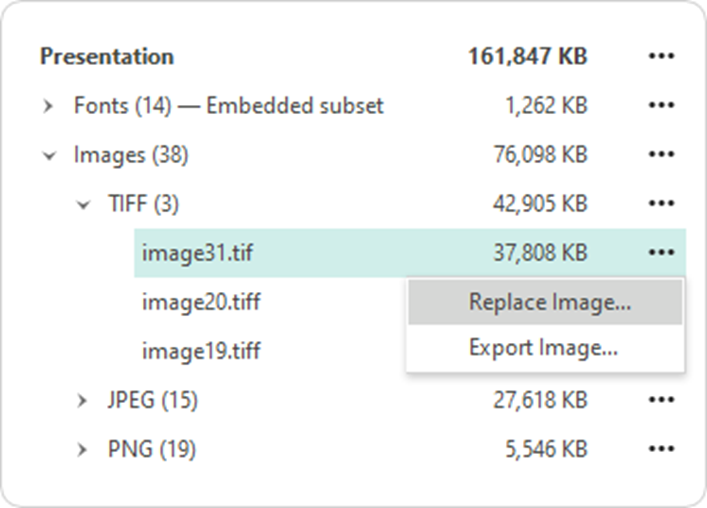 Check out the ellipsis menus on some of the items in the row. Here you can access the myriad of useful features. For example, you open the replace or export images features.
Inspector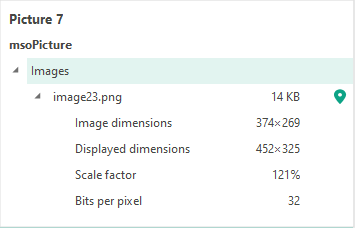 The inspector shows additional information about the currently selected element in PowerPoint. The information shown depends on the content element selected. You can also use the handy Locate button to locate the object in the Slidewise index.
Fonts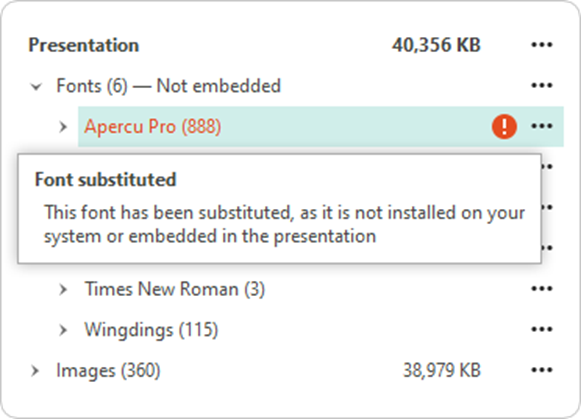 Slidewise indicates whether fonts are embedded in the presentation and if they are it will show the size of the fonts. When fonts aren't embedded it will highlight any fonts that are included in the presentation but aren't installed on your computer. These fonts will be automatically substituted and can affect the text layout.
Replace one or more fonts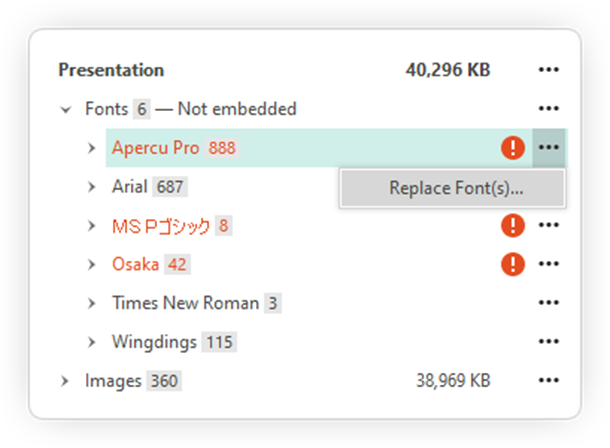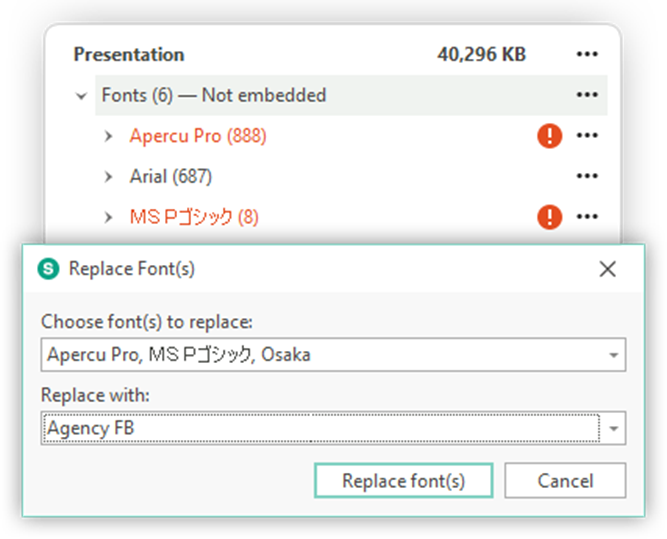 Slidewise makes it easy to replace one or more fonts, even when PowerPoint can't!
For more details see How to replace all fonts in PowerPoint at once with Slidewise.
Embed, subset and remove fonts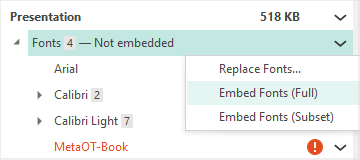 Ever tried to remember where to fully embed or embed a subset of a font in PowerPoint? Well, Slidewise makes this task super easy by adding an action to the Fonts node.
For more details read How to embed, subset or remove fonts from PowerPoint.
Images
Slidewise includes a whole host of features to make working with images.
Replace one or more image instances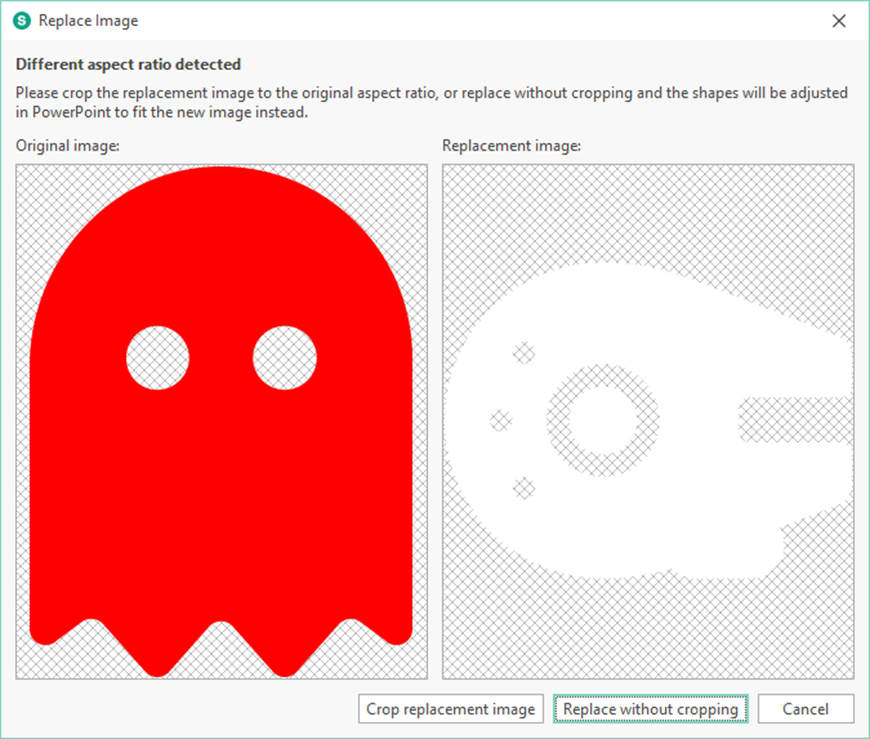 Have you ever replaced an image only to find that the new image has a different resolution and it no longer works with your content? When Slidewise replaces an image it shows you the differences in aspect ratio and allows you to crop the new image to fit the allocated space. It can even save you loads of time by replacing images that have been used multiple times while retaining crop and editing information on each individual image.
To find out more read How to replace all image instances in PowerPoint.
Automatically find problem images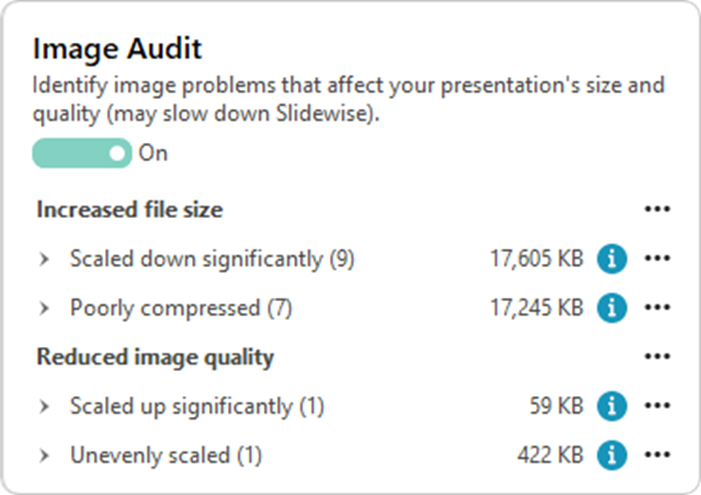 Checking all the images to ensure they look good in a very large deck with hundreds of slides is no fun! In the Image Audit view, Slidewise scans all the images in the deck and groups the images according to whether they have size or scaling issues. You can of course drill down and jump right to the offending images to quickly fix them.
Check it out in more detail: Find and fix problem images in PowerPoint.
Slide masters and Layouts
In the Slide Masters view you can manage masters and layouts.
Delete Unused Masters
Masters are grouped into Active and Unused. Delete unused masters to simplify and reduce the size of your decks.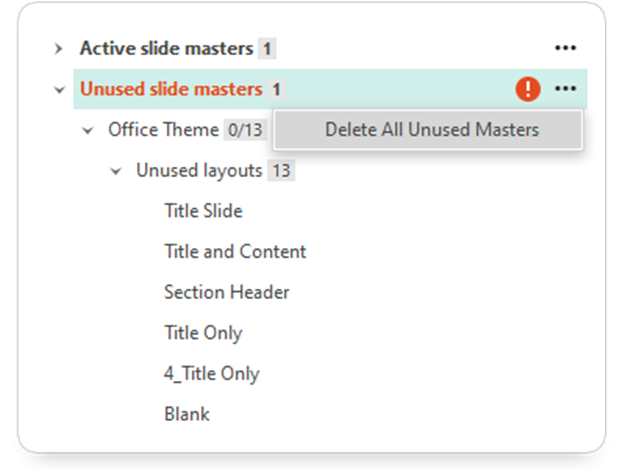 Consolidate slide masters
Simplify and reduce the size of your decks.

Reassign slides
Manually reassign slides from one layout to another.

For more information read Easily consolidate, combine and delete slide masters and layouts in PowerPoint.
Transitions
In the Transitions view you can view and edit transitions in bulk.
Slidewise will show a list of all the transitions in the presentation.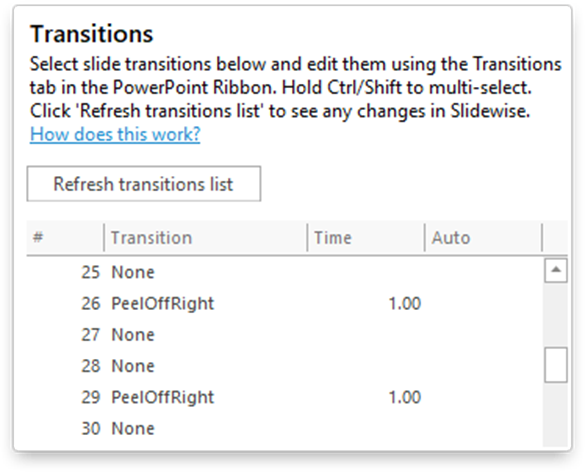 Sort the list to find the transitions you want to change.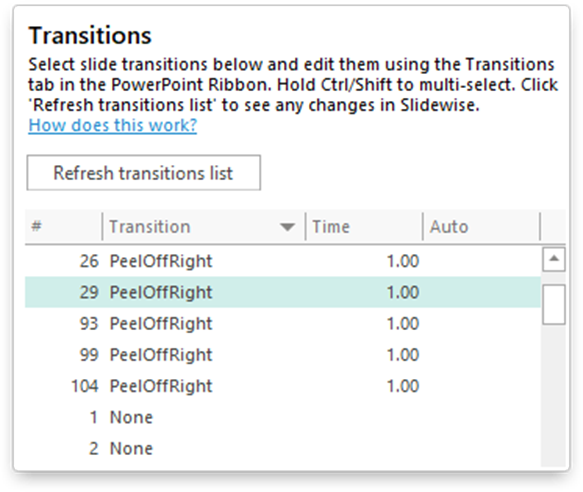 Or filter the list to just the transitions you want to edit and select the slides in the list and use the Transitions tab in PowerPoint to edit their settings.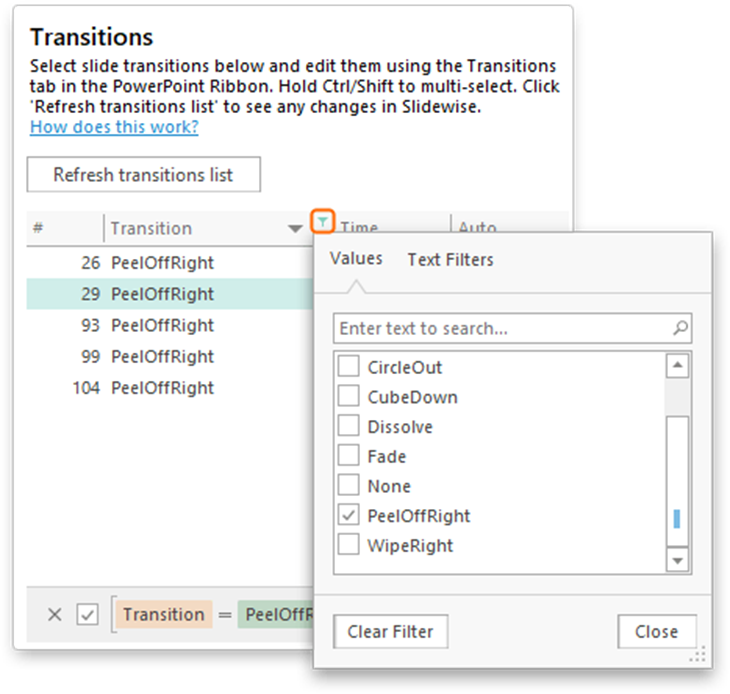 Don't miss these great features
Hidden Content - Open the hidden content view to see and jump to hidden slides and elements.
Remove sensitive Excel data - Read How to remove embedded Excel from charts in PowerPoint for more information
Comments and notes - View and delete all comments and notes in the file.
Export media - Export individual content elements or whole categories of content in one go. For more information read Export any media from PowerPoint.